I ordered one. I will be drilling some bolt holes in the top and I don't want to do that to my OEM bracket.
There are a lot of sellers who have this on Ebay with prices ranging from $23 to $63. Doing the research, it appears that this thing is exactly the same as the OEM bracket but some may possibly 3~5 oz lighter and they all are definitely way cheaper than a new OEM bracket. Vortex is the only one that calls it light weight but according to STG's reply to my email, they claimed it to be exactly the same weight as the OEM one I took off my bike. I ordered one that had a "Krator" company logo in the pic. $23. The seller reported the weight to be 16oz, a full 5 oz lighter than OEM.
How much do you think the Krator will weigh when I put it on my scale?
The bolts are M8 x 45mm. I will be replacing those too. Ti will weight the same as aluminum but cost $60 for two bolts and two nuts. Aluminum will cost $25 and I'll have three extra bolts (M8 x 45mm only comes in packs of 5). M8 is a pretty big bolt. The ram air tubes sort of stabilize the top fairing laterally but other than that, it's just those two bolts supporting the bracket and the top fairing. Would you trust aluminum? Headlights will be coming out someday. That will drop a lot of weight.
OEM bracket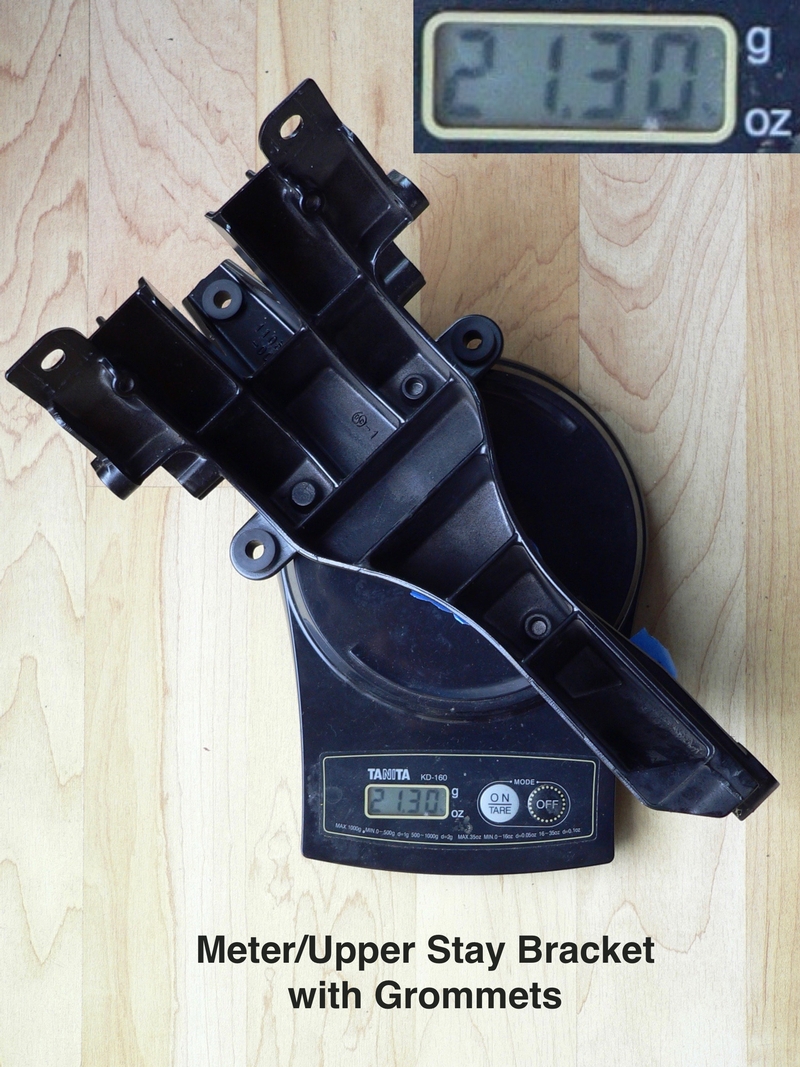 * Last updated by: Rook on 3/9/2018 @ 9:43 PM *
---
'08 MIDNIGHT SAPPHIRE BLUE flies out, full Tsukigi Cannon exhaust, BMC race filter, Muzzy's block off plates, Super Sprox 17t output sprocket, AFM 45t rear sprocket, EK zzz 530 chain, Gilles Tooling axle adjusters, PC5, Romans map, AT-200, Ignition Module, LCD-200, Speedohealer V4, Glow-Shift gauges, Illumiglow 210 mph clock faces, HM PLUS quickshifter, Factory Pro EVO Shift Star, RC's oil pump cover, Moto-D magnetic oil drain plug, MIT billet oil filler cap, Shorai 14A2 Lithium battery, Spiegler SS clutch and brake lines, HyperPro RSC steering damper, LighTech fuel tank cap, Vortex rearsets, lightweight mudflap bracket, FP Racing preload adjusters, Ohlins FGRT807 forks and KA544 shock, Carrazzeria Tri-R wheels, Bridgeport 90° valve stems, CZ 320mm front rotors, Galfer rear wave rotor, Pazzo levers, ProBots Dzus fasteners and many other bolts replaced with aluminum or Ti, Vortex mirror blocks, CRG bar end mirrors, LSL frame sliders, axle sliders, billet bar ends, 2WheelWorkz muffler